Inspirational FCC Forum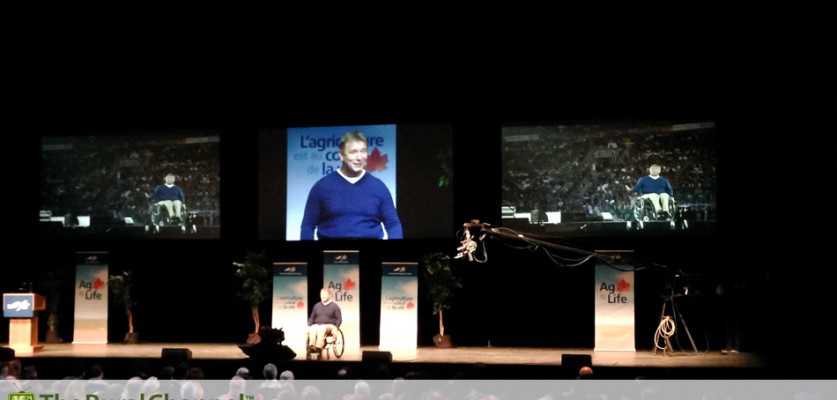 Pictured from left to right:  Michelle Painchaud, Rick Hansen, and Greg Johnson
On January 22, 2014 Farm Credit Canada (FCC) held their Inspirational FCC Forum event at the Conexus Arts Center in Regina, Saskatchewan.   The complimentary event spotlighted speakers Michelle Painchaud, President and CEO of Painchaud Performance Group, Greg Johnson, one of North America's top storm chasers, and keynote speaker Rick Hansen, president and CEO of Rick Hansen Leadership Group.  All three speakers delivered motivating messages and stories that were sure to inspire and generate ideas in the audience.  Aside from the speakers it allowed great networking for attendees with other like-minded people in the agricultural community.  If one of these are happening in your area we highly recommend attending, and it's complimentary so why not?!
What FCC has to say about the event:  "At FCC Forums, speakers share their stories of success and overcoming challenges. These events are an opportunity to learn, inspire big ideas and network with business owners and operators just like you."
Rick Hansen taking the stage.  You could hear a pin drop with how quiet and engaged the audience was.
See the list below for future FCC Forum events nearest you:
Read the official press release from FCC Below:
FCC Forum inspired big ideas in Regina
Regina, Saskatchewan, January 22, 2014 – More than 1,000 agriculture producers and food processors gathered in Regina on Tuesday, January 21 to be inspired by three enlightening and entertaining Canadian speakers at the Farm Credit Canada (FCC) Forum.
The event featured Canadian icon and spinal cord injury research advocate, Rick Hansen; the Tornado Hunter, Greg Johnson; and a management expert who works with farmers and agriculture businesses across Canada, Michelle Painchaud.
FCC Forums bring producers and agribusiness operators together to learn, network and share ideas with others in the industry. The Forums are just one of the ways FCC demonstrates its long-term commitment to support producers across Canada.
According to participant feedback, FCC Forums give them a unique opportunity to attend a motivational event, and many leave inspired and ready to set new goals in their personal and professional lives. Here is just a sampling of comments posted on Twitter or submitted by Forum participants: "It gave us new direction and encouragement for a better environment and the speakers were definitely inspiring." "Anything is possible with the help of family and people around you." "Exhilarating storm video and outstanding life lessons from Tornado Hunter, Greg Johnson." "Rick Hansen is one cool cat. It was a privilege to listen to him today".
"Attitude is everything when it comes to achieving success and overcoming challenges," Hansen told the crowd. "Being able to dream big and work hard through all kinds of obstacles – whether they are spinal-cord-injury-related or agriculture-related – is incredibly important for all of us."
With his bucket list philosophy and constant eye on the sky, Greg Johnson knows the importance of following your passion in a profession. "Nobody makes a decision to become a farmer if they don't have a passion for being on the land or producing," said Johnson. "It's that same passion and connection to the physical world that drives me into tornadoes and I love it!"
As one of Canada's premier consultants in human behaviour and employee performance, Michelle Painchaud provided the audience with new ideas about motivating their workforce. "Some people think it's impossible to motivate someone – that motivation only comes from within," said Painchaud. "In fact, there are easy ways for businesses to do it apart from financial motivation."
In addition to the FCC Forums, FCC delivers complimentary educational programs such as workshops and learning tours on managing farm finances, commodity price risk management, human resources, succession planning, estate planning and vision and goal setting. Participants can register online at www.fcc.ca/learning or call 1-888-332-3301.

The speakers:

Rick Hansen
Man in Motion and Spinal Cord Research Crusader
President and CEO of Rick Hansen Leadership Group, the keynote speaker is best known as Canada's Man In Motion. Starting in 1985, he wheeled more than 40,000 km through 34 countries, raising $26 million in just two years, two months and two days. A celebrated athlete, leader and social innovator, Rick believes attitude is everything when overcoming challenges and achieving success. His address emphasized the importance of dreaming big, working through obstacles and making a difference in the lives of others. Rick is founder and co-chair of the Rick Hansen Foundation and continues his commitment to spinal cord injury research and accessibility initiatives.
One of North America's top professional storm-chasers and severe weather experts, Greg Johnson is also an accomplished photographer and speaker who inspires others to pursue their own dreams. At the FCC Forum, he shared the lessons he's learned over 10 years of chasing Prairie storms, tornados, hurricanes and blizzards. Greg's recent work includes documenting the massive twister that devastated Joplin, Missouri, and helping outdoor festival organizers keep their crowds safe from severe weather. Greg plans to continue travelling the world year-round to satisfy his appetite for capturing extreme weather (when he's not cozied up at home in Regina with his family and beloved Saskatchewan Roughriders).

Michelle Painchaud
Ag Management Expert
Michelle is a farm girl who never stopped asking "How can we perform even better?" As President and CEO of Painchaud Performance Group, she's one of Canada's leaders in behavioural science and talent management. She works with farmers and business owners to unlock the power of human performance and profitability. Michelle used humour, storytelling and real-life examples to show the audience how the right attitude and human resources strategy can lead to dramatic business results.
FCC is Canada's leading agriculture lender, with a healthy portfolio of more than $25 billion and 20 consecutive years of portfolio growth. FCC is strong and stable – committed to serving the industry through all cycles, and to being socially and environmentally responsible. FCC provides financing, insurance, software, learning programs and other business services to producers, agribusinesses and agri-food operations. Employees understand agriculture and are committed to the success of customers and the industry. With FCC in the market, producers benefit, agriculture benefits, rural Canada benefits and so do all Canadians. For more information, visit www.fcc.ca. Follow Farm Credit Canada on Facebook and LinkedIn, and on Twitter @FCCagriculture.
For more information about this event, photos or to schedule an interview, please contact:
Éva Larouche (bilingual)
Communications
Farm Credit Canada
1-888-780-6647
[email protected]
Tags:
ag news
,
event
,
farm credit canada
,
fcc
,
fcc forum
,
greg johnson
,
motivating
,
motivational speaker
,
motvational
,
rick hansen
,
speaker
,
the rural channel
,
trc